Shopping Cart
Your Cart is Empty
There was an error with PayPal
Click here to try again
Thank you for your business!
You should be receiving an order confirmation from Paypal shortly.
Exit Shopping Cart
Insightly CRM & Project Management
As stated on the site:
#1 Online Small Business CRM
CRM and Project Management. Easy. Powerful. Affordable.
Summarized:
Insightly is a CRM/Project Management application that will help small businesses become more organized and grow their business.
Check out the quick, but informative one-minute video overview.

One of the main features, in my opinion, is that Insightly links to everything, everywhere...your mobile, tablet, laptop, desktop, etc..  They completely harness the power of cloud storage, which means that everything you need for your small business is at your fingertips no matter where you're at or what you are doing.
This free-for-life account at Insightly is priceless for a small business owner.  You can even add additional users simply by adjusting your settings in your account.  
After you sign up for your free account, the welcome letter they send you will have some great information and useful links for you.  It will also contain a very handy concepts guide for new users that you can download and save for future use.  Convenient, right?!
Now for all the tabs that you have available in your account.
The contacts system is awesome!  It keeps track of all of your interactions with each contact.  Emails, notes, files, tasks and events are all available to view for each person in your contacts list.  It will even detect social connections for your contact from around the internet, based on the person's email address!  Could you even imagine how useful that could prove to be?  
(See my screenshot below)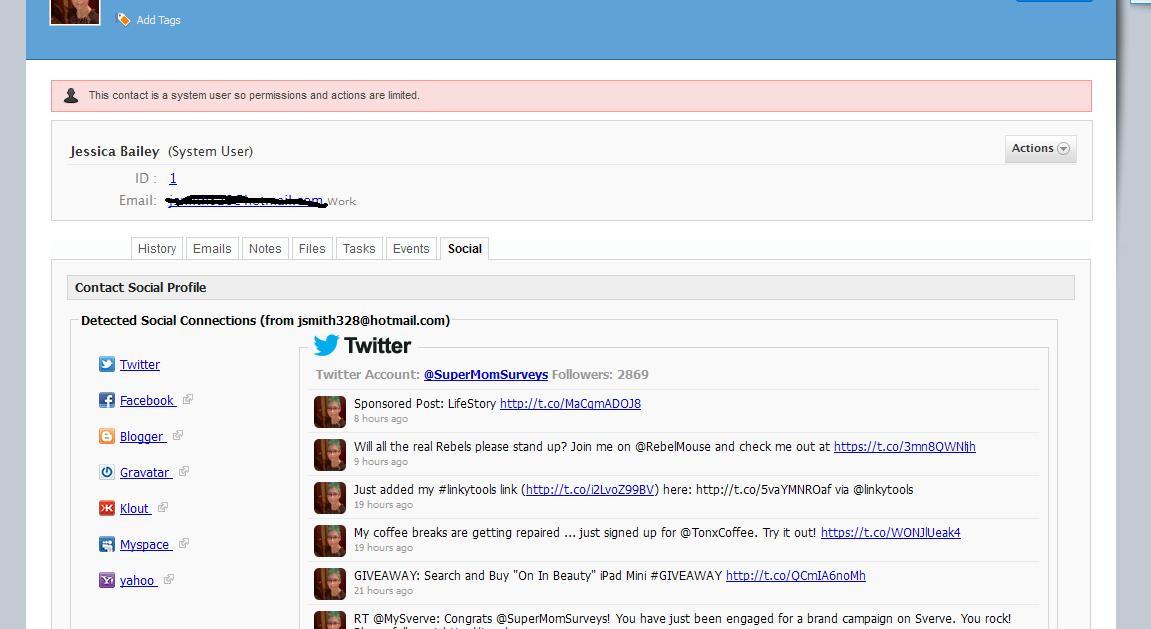 When you add a task, it can be linked to the contacts, opportunities, projects, organizations and emails that they relate to.  You can assign due dates to the tasks, as well as keep track of what needs to be done, by whom and when.  When you finish a task, you just check it off.
Tasks can also be added to Google Calendar and you can see various types of reports for completed tasks and events.
The organizations section is for organizations...like companies, non-profits, associations...things of that sort.  You can record information like website addresses, phone numbers, important dates, background history and more.  These can all be linked to everything else in your Insightly account.  It will even pull down related news headlines from the internet and display them right next to an organization in the news tab!
You can also create opportunities and projects, and keep track of every detail super easily!  Insightly keeps all the contacts, files, emails, tasks and notes associated with a project all in one place, so it's extremely easy to find.
You are given a personal Insightly email mailbox when you sign up. You can forward, CC or BCC email messages to your mailbox address they give you, so you can keep track of who said what.  Forwarded messages will be automatically attached to the Insightly contact who sent the email.  BCC'd messages will be attached to the recipients of the email in Insightly.
New notifications, your calendar, reports and settings are all easily accessible at any time.  They all have little, easy to see, icons at the top right side of the page.  They're visible on every screen you may be on, so you can keep up to the minute with everything.
If you wanted to upgrade your account, you would enjoy extra features such as being able to get Google contact sync, calendar sync, MailChimp integration, custom branding and much more!
Insightly is simply amazing!  I will be using it for everything I do from now on.  Even as just a blogger/Admin of SuperMomSurveys, I can use it to keep track of my guest posts, reviews, giveaways, sponsored posts and sponsors, brand contacts, blogger contacts, deadlines and more!  It has already taken the place of a few apps on my Kindle Fire and my day planner and I don't see it stopping there!
Want an account?  Just go on over to Insightly and get your free account!  You can thank me later...lol.
Disclosure:  This was a sponsored review, but all opinions are my own and are my honest thoughts.
Categories: Reviews, From Me to You, July 2013
/