Shopping Cart
Your Cart is Empty
There was an error with PayPal
Click here to try again
Thank you for your business!
You should be receiving an order confirmation from Paypal shortly.
Exit Shopping Cart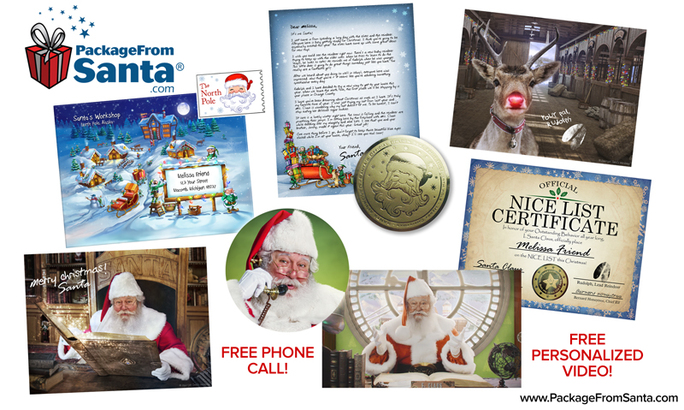 Every child WANTS to believe in Santa Claus, but let's face it, the kids today are much smarter and often demand more proof than just simple letters from Santa.  My oldest daughter, Bobbie, is 9 years old and she questions the existence of Santa. She mostly still believes, and wants to, but a lot of her friends are starting to lose their faith.

What if there was an easy, inexpensive way for you to ensure that Santa Claus remains a strong belief in your child's heart? Well, there is!
PackageFromSanta.com offers you a choice of 3 unique treasure chests of authentic, custom Santa Claus goodies, sent right to your child, directly from the North Pole! It's a bundle of proof with YOUR CHILD'S NAME ON IT! Every Package is painstakingly crafted, packed and shipped with care and even includes a real Santa return address and genuine North Pole Stamp!
But that's not all! Santa further proves his existence with a Personalized Phone Call & Personalized, Movie-Quality Video starring your child! That's a $15 value, absolutely FREE with EVERY package!
Hearing, touching and seeing is BELIEVING! Result?? No more non-believers! (Be sure to have your camera ready!)
Watch a VIDEO from PackageFromSanta.com now to learn more: http://bit.ly/2geifm5
PLUS! Now you can also get an **EXCLUSIVE-LIMITED-TIME-FREE-BONUS!** Instantly!
Keep your child behaving during the hectic (and sugar laden) days leading up to Christmas with a personalized, high-quality, printable 100% FREE Nice-List Guide from Santa Claus. Includes your child's photo, name, and top 10 behaviors needed to stay on Santa's Nice List! Personalize your child's Nice-List Guide now here www.freenicelistguide.com It only takes 60 seconds... nothing to buy, now or ever.
My loyal readers get an exclusive 25% discount on every Package From Santa now!
SAVE 25% OFF every Award-Winning Personalized Santa Letter Package (even the Platinum Package!) sent directly to your child from the North Pole!
Start a new Family Christmas tradition with the #1 online Santa Letter service today!
Go to https://www.packagefromsanta.com and use coupon code FAM2016 to save 25% off every order.
Coupon link: http://bit.ly/2eKRqpj
Offer Expires 12/15/2016
**BEWARE!** Of online Santa Letter copycats! Only PackageFromSanta.com has an A+ Rating with the Better Business Bureau and top-notch customer service for over 10 years. And don't forget Santa's Super-Satisfaction Guarantee: YOUR child (and you!) must be absolutely delighted - 100% thrilled in every way - or we'll send you a prompt and cheerful refund, no questions asked. Questions? My Christmas Cheer Team is happy to help! 866-894-4789.
Go to https://www.packagefromsanta.com now and join the hundreds-of-thousands of satisfied https://www.packagefromsanta.com customers!
Don't take my word for it! Read one of the thousands of testimonials from real people just like you!
Read more testimonials here:
https://www.packagefromsanta.com/content/testimonials.html
Categories: From Me to You, Good Deals & Coupons, Nov. 2016
/